2016 Acura RDX Driving Impressions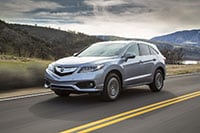 The six horsepower increase in the smooth V6 is fine, but a bigger improvement to the engine is the broadening of the torque range. This makes it more responsive at almost all engine speeds, especially improving drivability around town. Its quickness from 40 to 70 mph makes passing on two-lane roads secure, while the torque keeps the transmission from having to downshift.
The RDX is pleasant to drive on winding roads. It's quite refined, with new active rear and front engine mounts, updates to the steering control system and increased suspension mount stiffness, all reducing vibration and jolts on rough roads.