2016 Acura RDX Walk Around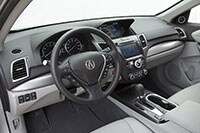 For 2016, Acura RDX gets a new front and rear end. The headlamps dazzle, a row of five LEDs like a string of diamonds. A new fascia underlines the emphatic angular grille, which kind of looks like a beak, better on the Acura SUVs than the sedans. At the rear, new LED taillamps are a light-pipe design.
The roofline is low and arched. Muscular fender arches around new-for-2016 wheels enhance the attractive profile.
Interior
The RDX shares its structure with the Honda CR-V, making it a five-seat compact. The front seats are comfortable, with eight-way adjustment and a tilt-telescope steering wheel so six-footers are fine. But in the back, three people get crowded, even if they're small. Two adults in front and two kids or teenagers in back is optimum comfortable seating. Still, the RDX has nearly two more inches of rear legroom than the Volvo XC60.
The instrument panel offers both form and function, with controls that are easy to find and use. Soft-touch materials and matte surfaces make it upscale, despite too many bright bits. The controls are canted a bit toward the driver but don't crowd him or her. There's good storage space in various bins, including slots for 23 CDs in the center console, as well as the perfect shelf for a phone and nearby slot for charging.
The rear seats don't fold flat, but there's 61 cubic feet of cargo space when they're down (BMW X3 has 63), and the cargo floor is low in the rear. Under that floor, there's another 15 cubic feet, and that's a lot.