2016 Acura RLX Driving Impressions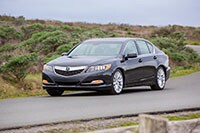 The front-wheel-drive RLX doesn't use an electronic active suspension that's common in the class, it sticks to your shock absorbers, links and springs. It's a mildly cushy cruiser with only token amounts of feedback from the road. The retuned 2016 suspension includes upgraded dampers, softer springs and rear stabilizer bar, different rear bump stops, and 19-inch wheels. In the front, the shock mounts have been relocated. The goal was to lower the harshness, noise, and vibration, as well as softening the ride without compromising the handling.
The RLX features a system called Precision All-Wheel Steer, or P-AWS. The rear wheels turn up to two degrees in the opposite direction of the front wheels, making cornering quicker and adding stability that's felt mostly when changing lanes on the freeway. You can really feel it on a slalom course.
The speed-sensitive electric power steering has a light touch around town. In the twisties the steering adds resistance, as the chassis leans into corners without drama. It handles rough roads with little fuss.
The engine's 310 horsepower and 272 pound-feet of torque are far from tops in the class, but the acceleration is still ample. The engine wakes up with some intake snarl when you floor it at 3000 rpm, with 0-60 times of six seconds about the same as the Lexus GS, which feels faster because of its peakier powerband. The RLX is steady.
The six-speed automatic transmission has paddles and a sport mode. Downshifts are less invisible, while upshifts are very smooth. Other sedans in the class use eight-speed transmissions, for example the Chrysler 300.
If you need higher performance, the Sport Hybrid SH-AWD model is your call, with 377 hp and 377 lb-ft of torque. In fact, a version of its special new three-motor hybrid system can be found in the future Acura NSX supercar. The basic 3.5-liter V6 is mated to a new seven-speed dual-clutch automated manual gearbox that has a 35-kW motor built in. Its all-wheel drive comes out of the two 27-kW motors in the rear differential.
It's a more exotic and exciting driving experience than you get in the front-wheel-drive RLX. It's extremely responsive to the throttle. Add torque vectoring to the handling, and you've got something that can feel like it defies physics, by adding power at individual rear wheels to help steer the car. It's the SH (Super Handling) part of the AWD.