2016 Acura RLX Introduction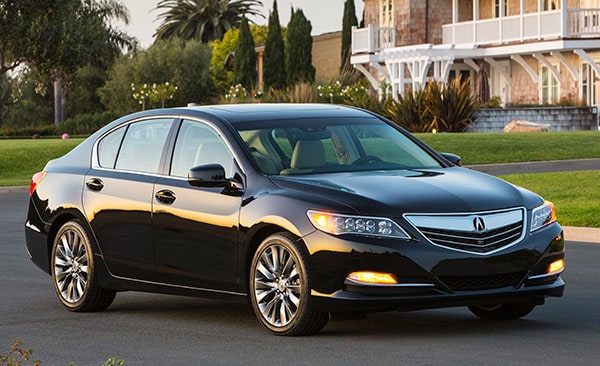 The Acura RLX is a polite front-wheel-drive sedan with subtle luxury. It's not flashy nor especially powerful for a class that includes the Lincoln MKS and Cadillac XTS. It's handsome but understated outside, not slinky like the Audi A7 or Jaguar XF. It's classy and understated inside. It's well composed. There's a smooth growl from its V6 engine, with acceleration from 310 horsepower that's steady not neck-snapping, unlike the 429-horsepower Hyundai Genesis, another car in its class.
For 2016, the RLX suspension has been retuned with softer shocks and springs, and 19-inch wheels are now standard. RLX was all-new for 2014, replacing the RL sedan.
The 2016 Acura RLX leads its class in fuel mileage, with 20/31 mpg City/Highway and 24 mpg Combined.
Safety is a focus, including a driver knee airbag and Lane Departure Warning and Forward Collision Warning systems, all standard equipment. RLX gets five stars from the federal government in every crash-test category, as well as Top Safety Pick in every category from the Insurance Institute for Highway Safety.
The AcuraWatch system includes road-departure mitigation that uses steering correction when a camera detects wandering. This system can help drivers who aren't paying attention, but found it annoying. This system will also steer the car at lower speeds behind another car, meaning stop-and-go traffic. But the calibrated following distance is so wide that other cars cut in front, and then it slams on the brakes. AcuraWatch is not standard, so you can avoid it or switch it off every time you start the car.
The RLX Sport Hybrid model leaps fuel mileage to 28/32 mpg City/Highway, while being considerably more powerful and handling better, and equipped with all-wheel drive. RLX Sport Hybrid uses three electric motors and lithium iron batteries along with a 3.5-liter V6.