2016 Acura RLX Walk Around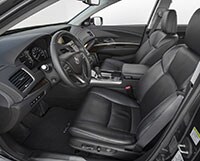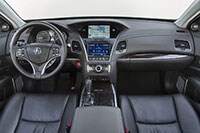 The RLX is subtle and graceful, with smooth and handsome lines that suggest muscle at the front fenders. It's also nondescript and forgettable, a car that blends into the background. The only risk that Acura took with the styling is in the jeweled LED headlights, which don't rescue the bland front end with an Acura boomerang of chrome on it. It doesn't measure up to the individuality in the styling of the Jaguar and Cadillac it competes against.
Interior
The interior is like the exterior, elegant but uninspired. The materials are point-perfect, but the design lacks the sense of drama that's required in cars like this, never mind the multiple shimmering screens. Refinement is down pat but seems orchestrated. The cabin is nicely detailed, a functional place to perform the tasks of driving, although those multiple screens mean multiple guesses. The musical jingle that plays when the door is opened is a rare display of emotion from Acura.
There's good passenger room in rectangular spaces that read more like building architecture than car design. It's not modern like an Audi or opulent like a Jaguar, it's in between. The front seats have the best leather we've ever seen in an Acura, and fit like large executive desk chairs. Acura says the shoulder room is better than the German cars, without mentioning Cadillac, Lincoln or for that matter the Chrysler 300.
Large rear door openings make it easy to slide in and out of the wide and long seats if you're not tall; the sloped roofline makes tall folks duck, and rub their heads on the ceiling. There's less shoulder room back there than we expect. The rear seats don't recline like the big German sedans can do.
There's a lot of storage for small items. The center console is wide without taking up people space; its sliding lid opens from either side. The trunk is a different story; the floor is flat, and that's good, but its 14.9 cubic feet is a couple gym bags smaller than the Lincoln MKS. The available Krell audio system takes up some more space, and the Sport Hybrid's battery pack cuts the volume to 12.0 cubic feet.