2016 Acura TLX Driving Impressions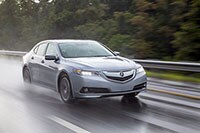 We found the Acura TLX with the four-cylinder engine to be the best balanced, even without the Super Handling All-Wheel Drive of the top V6. It's easy to toss around, while being comfortable enough for your mother-in-law or boss to ride along.
The 2.4-liter engine makes a healthy but hardly awesome 206 horsepower, but it likes to rev and sounds great along the way. It's well matched with the 8-speed dual-clutch transmission that works best when you run it hard, with crisp upshifts and rev-matching downshifts. The added torque converter helps reduce snatches during casual running, but there's still occasional tugging and lurching at speeds under 10 mph.
And the programming, as with other Acuras (even the Honda Pilot), makes it impossible to coast, for example down a slight grade at 25 mph. The transmission slows the car down aggressively, against your wishes, so you find yourself having to accelerate to maintain the casual slow pace. You speed up to 28, the transmission slows you down to 22; and again. You can't just coast smoothly at 25.
Of course there's always Sport Plus mode, with tidy paddles at the steering wheel. It's a driver's transmission, then. Even in Sport Plus it shifts at redline, and won't let you hit a rev limiter.
But all is forgiven when you get in the corners. The steering is taut and precise, and a beautiful suspension keeps the car composed over bumps and flat in apexes. The Precision All-Wheel Steer helps make the car nimble at low speeds and stable at high speeds.
In the V6 models, the lovely lightweight handling is lost, and it doesn't feel that much faster than the four. Meanwhile, the 9-speed automatic transmission throws in vagaries. The extra gear doesn't do much, it's mostly about fuel mileage which still won't match the four-cylinder; and the transmission programming is a mess: hesitant, jerky and pokey, lacking zing. And annoying; you can wait a long time for it to switch from reverse into drive.
The torque of the V6 stirs up some bad behavior from the front-wheel-drive TLX. The SH-AWD model with its torque vectoring doesn't have that same tug at the front wheels, but it weighs a whopping 300 pounds more, and is noticeably slower.