2016 Audi A4 Driving Impressions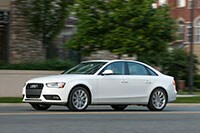 Audi's 2.0-liter turbo used to be the fastest kid on the black, but now it feels underwhelming. Both the Cadillac ATS and BMW 3 Series are quicker and more nimble.
We strongly recommend getting quattro. First, Audi excels at all-wheel drive so it would a shame not to get it. Second, quattro comes with an 8-speed automatic or a 6-speed manual, both of which are superb, and either a much better choice than the slow CVT. The 8-speed Tiptronic automatic works extremely well, blipping the throttle to match revs when downshifting and performing quickly when upshifting. The 6-speed manual is another great option because it turns the A4 into more of a sports sedan. The manual shifts precisely and is fun, with an easy clutch pedal. A hill-hold feature prevents rolling back when taking off on a steep hill.
The A4 is taut and stable, with a slightly firm ride and a decent feel to the electric power steering; with available adaptive steering, the steering effort is varied. The A4's electric power steering does not have the natural feel of a sports sedan. The optional sports suspension has a firmer ride quality but it isn't harsh and it sharpens handling response.
A4 handles good with front-wheel drive, great with quattro. Quattro is outstanding in snow and rain, and it performs better than BMW, Mercedes-Benz and Lexus all-wheel-drive systems. Audi gained vast experience with all-wheel drive while competing in the World Rally Championship; the others do not have that experience. Quattro improves handling on dry asphalt, also. In terms of two-wheel drive models, BMW's rear-wheel drive is superior to Audi's front-wheel drive.
Also available is Drive Select, with settings for the suspension, steering, throttle and transmission. We like the stock setup, with its broad range and its predictability. We think it's easy to live without different settings for driving.
There is a sport package available that stiffens the suspension, different dampers along with wheels and tires.
We liked the way the brake pedal felt and they work well at higher speeds.