2016 Audi A5 Introduction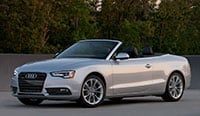 Audi A5 is a sleek two-door luxury car available as a coupe or convertible.
The styling of the Audi A5 Coupe is at once elegant and striking, clearly built with attention to detail. The cabin is understated and soothing, lavish and luxurious, with a choice of carbon fiber, stainless steel or wood trim.
The A5 Cabriolet gives the driver the option of dropping the top. The Cabriolet's cloth top is insulated and powers open or closed quickly. The convertible loses some of the clean lines of the coupe, but it's a great car for top-down motoring.
The A5 uses Audi's legendary 2.0-liter turbo now making 220 horsepower, and quattro all-wheel drive is standard. It uses an eight-speed automatic transmission, although you can get a six-speed manual in the coupe.
2016 Audi A5 Coupe and Cabriolet come standard with the S line exterior trim. 2016 A5 Premium Plus models are equipped with the excellent Bang & Olufsen sound system. A Red Acoustic convertible top is offered for the 2016 A5 Cabriolet and S5 Cabriolet. Now eight years old, the A5 was introduced as a 2008 model in the fall of 2007 and was refreshed for the 2013 model year.
A5 with eight-speed automatic is EPA-rated at 22/31 mpg City/Highway, or 25 mpg Combined and Premium gasoline is required; with the six-speed manual, it's rated 32 mpg Highway.
The A5 offers many safety features including eight airbags and pop-up rollbars in the Cabriolet.