2016 Audi A6 Driving Impressions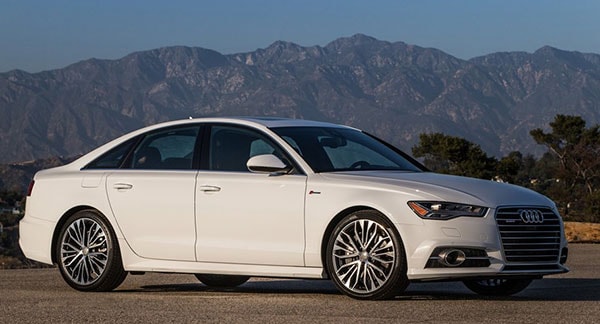 We drove the A6 in Europe, models with European specs. We found the acceleration of the 2.0T, its passing ability on two-lane roads, to be satisfactory. The new 7-speed dual-clutch transmission is quick and smooth, although no more so than the Tiptronic automatic. It's used in the 2.0T mostly because it's more fuel efficient, but still not a lot. The 2016 fuel mileage hasn't been rated yet; it will be interesting to compare it to the 28 mpg combined that the 2015 got, with its CVT transmission.
We dove the supercharged 3.0T as well, and we can say that you can definitely feel the difference between 310 and 333 horsepower, passing on European two-lane roads. We can also say that, in the TDI, you can most definitely feel the rush that comes from the kick in the pants of its 428 pound-feet of torque when accelerating onto the freeway or past another car on a two-lane.
The 2.0T handling might be called unobjectionable, while being free of passion. The 3.0T is more engaging but still uninspired.
Meanwhile, the available active safety systems are getting more inspired all the time. A new feature for 2016 is called Side Assist and Active Lane Assist, which basically gently grabs your steering wheel if some cross-eyed camera tells some computer with invisible hands that you're moving into a lane with a car in your blind spot. Countless times we have seen these blind spot warnings be incorrect, going off at guardrails and raindrops, if not cars that are way way back there. So now we wonder, with this option, if control of your A6 will be taken over by some phantom robot who makes a lot more mistakes than you do.
The 2016 Audi S6 is capable of accelerating 0-60 in 4.3 seconds. The S6 handles well, with an adaptive suspension that balances ride quality and chassis control. Different modes are available for throttle and transmission. The 2016 S6 gets and EPA-estimated 18/27 mpg City/Highway, or 21 mpg Combined.