2016 Audi A6 Introduction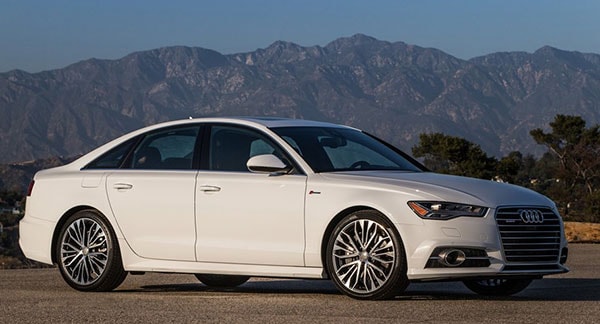 The Audi A6 and S6 have been updated for model year 2016. Freshened styling, and updated Audi MMI and revised gasoline engines highlight the changes to the 2016 Audi A6 and 2016 Audi S6.
New to the entire 2016 A6 and S6 lineup are redesigned LED headlamps, a revised grille, new taillights, restyled bumpers, and new tailpipes. There are new gray and brown interior colors, and the available HUD (head-up display) integrates into the dash more smoothly on 2016 models.
The 2016 A6 2.0T gets a revised 2.0-liter turbocharged four-cylinder that now makes 252 horsepower and 273 pound-feet of torque, an increase of 32 hp and 15 lb-ft; a huge increase, for such a small engine. A6 2.0T comes standard with front-wheel drive and a new seven-speed dual-clutch S tronic transmission, replacing the previous CVT. Quattro all-wheel drive can be added, pared with an eight-speed Tiptronic automatic.
The 2016 A6 3.0T that uses a 3.0-liter supercharged V6 gets a boost to 333 horsepower, 23 more than 2015, with 325 lb-ft of torque. Quattro and Tiptronic are standard.
The A6 3.0 TDI clean diesel continues with its fuel-efficient 3.0-liter V6 turbodiesel that makes 240 horsepower and a beastly 428 pound-feet of torque, while getting an EPA-estimated 29 mpg Combined city and highway. It uses the eight-speed Tiptronic, too.
The 2016 S6 features an upgraded 4.0-liter twin-turbo V8 boosted horsepower to 450 and torque to 406 pound-feet. A 7-speed dual-clutch transmission and quattro are standard.
MMI, what Audi calls its man-machine-interface infotainment system, is upgraded for model year 2016, with a fast Nvidia quad-core Tegra 30 processor for quicker delivery of information and graphics; Bluetooth, Siri, and social media functions are included.
The 2016 A6 earned five stars in government crash testing.