2016 Audi A6 Walk Around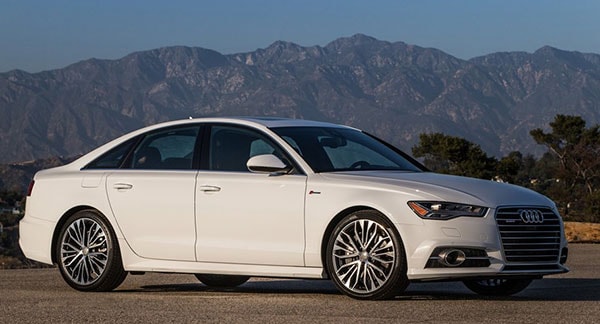 The 2016 Audi A6 2.0T ($46,200) comes standard with front-wheel drive or with quattro all-wheel drive ($2400). The 2016 A6 3.0T quattro ($57,400) and A6 3.0 TDI turbodiesel Quattro ($59,500) come standard with all-wheel drive.
Standard equipment includes leather upholstery and a sunroof. Premium package and premium plus packages add electronic goodies. There's also a cold weather package and sport package with 19-inch all-season tires. The best option is an awesome 15-speaker, 1300-watt Bang & Olufsen sound system with rising tweeters.
Interior
The Audi A6 is average length for a midsize sedan, but because of its styling, a longer nose and shorter trunk lid, it offers less space inside. There's room to stretch your legs in front but not so much room to spread your knees, because of a wide center tunnel. Headroom in front is good but in the rear it's snug on account of the roofline. The trunk holds 14.1 cubic feet, which is enough if not ample, and the cargo floor is rather high.
Heated front seats are standard, and they're very comfortable on long trips, with relaxing headrests. The rear seats fold but not flat. Like other German sedans, there isn't a lot of small storage space; small cupholders but doors with niches for water bottles. There's a smallish glovebox and shallow bin in the center console under the armrest.
The dash and instrument panel are low and slim, with a popup 6.5-inch standard LCD display in the center. The interior is trimmed and finished attractively, with high-quality panel fit.