2016 Audi A7 Walk Around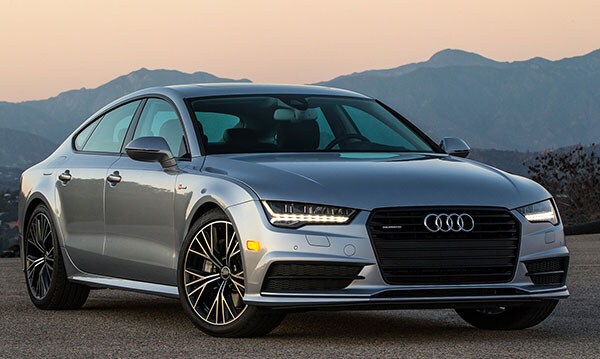 The Audi A7 grille, front fascia, and headlamps have been sharpened for 2016, and the LED turn signals are way cool, as a row of white lights flash in sequence. Another thing: Audi has made Daytime Running Lights a thing of beauty. It's art on the highways, instead of an ugly glare in your face.
The A7 resembles the A6, except for the grace of the roofline that makes it look like a two-door coupe instead of the four-door sedan that it is. The fastback slope down to the rear bumper is sleek, although the glass hatch cuts into cargo space, a tradeoff most A7 buyers will not care about.
Interior
The A7 interior is classy all the way, calm, cool and collected. Its style comes from the flagship A8. Elegant lines and materials abound, with lines that lines pass over and under the dash from different directions, yet the layout somehow remains centered on function. Despite the blends of materials and shapes, there's not a hint of chaos.
Overall, the cabin feels spacious and open, especially with the available panoramic roof. When you add the A7's high technology, the cabin emerges as exceptional. An improved MMI system is quicker, using a Nvidia Tegra 30 processor with twice the power, enabling the pop-up high-resolution LCD screen to display Google Earth data. The available HUD, or head-up display, is tidy and doesn't intrude into the visibility through the windshield.
The seating for four is comfortable. The front seats are well bolstered and can be adjusted virtually to infinity, although the rear legroom could not be said to be ample. The rear seats fold for more cargo space, offering more than a sedan with a trunk, and more than a two-door coupe. However the sloped glass hatch limits not only the size of the items that can be carried, but headroom too, despite scallops in the headliner. Between limited legroom and headroom back there, the A7 is a compromised sedan. If you want your sedan to look like a coupe, which the A7 pulls off beautifully, don't expect it to offer all that a sedan does, for passengers.
The steering wheel is slightly offset toward the right, which some might notice and others might not. The instruments are angled toward the driver, making him or her feel special.
The available Bang & Olufsen sound system is wonderful. If you love your music, the A7 can become your concert chamber.