2016 Audi A8 Driving Impressions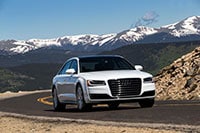 The overall handing of the A8 is sophisticated and composed. But mostly, Audi has nailed the calibration of the 8-speed automatic transmission (or rather ZF the transmission supplier has), which always chooses the correct gear quickly, and simply and smoothly. Using the Drive Select system, in Comfort or Auto mode, the transmission short-shifts, meaning it upshifts casually and early; while if you floor it for passing, it will jump from eighth gear to third in a heartbeat, to bring on a rush of passing power.
Drive Select is the electronic godhead that governs engine, transmission, steering, and suspension feel, according to what the driver wants at the time, Dynamic, Comfort, Auto, and Individual for custom settings. It brings out the best in the car, from switchbacks to city to freeway cruising, although Dynamic makes the steering effort a bit high.
The base 3.0T supercharged V6 is fast and responsive, if not vibration free. The low-end speed from the supercharge boost and well-spaced gears in the transmission enable it to accelerate from 0 to 60 in 5.5 seconds. To compare, the 3.0 TDI diesel does 0-60 in 6.4 seconds, while being a bit noisier.