2016 Audi A8 Introduction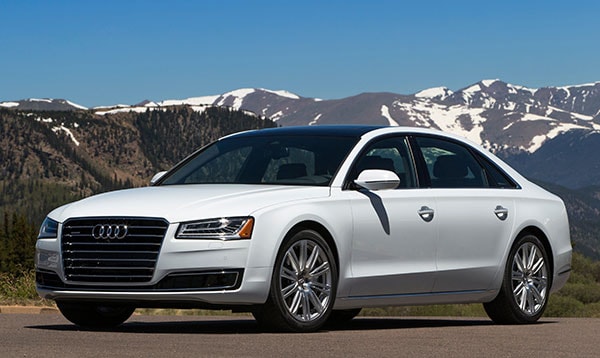 The Audi A8 is a genuine contender for the world heavyweight championship, the full-size luxury sedan category, now topped by the Mercedes-Benz S-Class. But with the A8's long wheelbase for interior room, its aluminum space frame for lightness, and its available 12-cylinder engine for spectacularness, it feels kingly.
It's not just that unique W12 flagship engine that makes the car stand out. The lineup includes three other engines, including a new supercharged V6, a turbodiesel V6, and a twin-turbo V8s. And that's not counting the S8 with a more powerful version of that V8.
The supercharged 3.0-liter V6 is the base engine, making 333 horsepower and 325 pound-feet of torque while getting 29 highway mpg. The 3.0-liter turbodiesel TDI makes 240 hp and 406 pound-feet of torque, while getting 36 combined mpg with a range of more than 800 miles to a tank of gas, numbers we achieved at 80 mph on a weekend road trip.
The 4.0-liter twin-turbo V8 makes 435 horsepower, which is pretty impressive until you try on the 6.3-liter W12 that makes 500 horsepower with 488 pound-feet of torque and accelerates from 0 to 60 mph in 4.4 seconds.
The biggest change for 2016 is that the shorter wheelbase A8 has been dropped for North American import. There's also a new model, the A8 Sport with the V8, which takes on aggressive front and rear fascias that visually give it a touch of S8.
An 8-speed automatic transmission and Quattro all-wheel drive are standard in the A8, with the torque split 60/40 to the rear under normal driving conditions, while moving to 60 percent at the front if traction is needed there.