2016 Audi Q3 Driving Impressions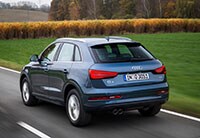 The acceleration of the 2.0-liter turbo engine is less than dazzling, given the Q3's weight of 3500 pounds with front-wheel drive, but it's better than in the fancier Q5, because the Q5 uses the same engine and weighs even more. The Q3 is also lower, so it feels more lively.
However, less than dazzling is still pretty good. It's like an appearance of the little engine that could, with locomotive-like torque, with most of the 207 pound-feet available at 2000 rpm. The engine is supported by a 6-speed automatic transmission that enables brisk spurts by its gears spaced neatly to the powerband of the engine.
The Q3 suspension can handle anything 200 horsepower can dish out. With struts in front and four links in rear, and fairly quick electric power steering, the Q3 feels tidy and firm, predictable, and well damped even with the optional 19-inch all-season tires. It's no X1 around corners, but it beats the GLA on rough city streets.