2016 Audi Q3 Introduction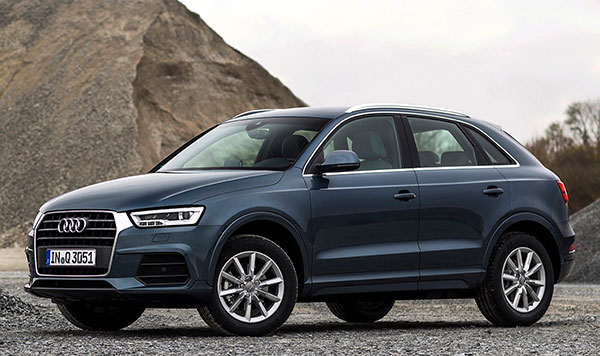 The Audi Q3 is a compact crossover, introduced for 2005 to a booming category that includes the Mercedes-Benz GLA, Acura RDX, Buick Encore, BMW X1, Volkswagen Tiguan, and Mazda CX3. The Q3 looks like a stubby version of the stylish Q5 SUV on the outside, and like the A3 sedan on the inside.
The grille and rear end are tweaked on the 2016 Audi Q3, while a rearview camera and parking sensors are standard on all 2016 Q3 models. LED headlamps appear on upper trim levels of the 2016 Audi Q3.
The Q3 comes with one powertrain, a turbocharged and direct-injected 2.0-liter four-cylinder engine making 200 horsepower and 207 pound-feet of torque, mated to a 6-speed automatic transmission. Front-wheel drive is standard, quattro all-wheel drive available. The Q3 can accelerate from zero to sixty in about eight seconds (not quick), and go 130 mph (fast).
It's considered a five-seater, maybe two adults and three smallish kids. Standard equipment is generous, including leather, sunroof, xenon headlamps, 18-inch alloys, LED interior lighting, heated front seats, satellite and HD radio, and Bluetooth streaming. A USB port only comes with the optional navigation.
The Q3 is built for comfort not speed. The suspension tuners chose ride quality over crisp handling. The Q3 rides like the bigger Q5. But by using the Drive Select modes, it can be made to handle almost as sharply as the Mercedes-Benz, BMW, and Volkswagen models. Drive Select is not standard, but an option worth considering. Modes alter the throttle, steering and transmission response.
The Q3 gets an EPA-estimated 20/29/23 miles per gallon City/Highway/Combined, which could be better, given the competition in the class. The efficient quattro all-wheel drive scarcely dings those numbers.