2016 Audi Q3 Walk Around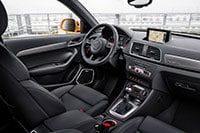 The styling of the Audi Q3 is predictable, not dramatic in any way, but nice. It may be stubbier than the Q5, but it's a flattering imitation. The lines are attractive enough to have been borrowed from by the Lincoln MKC. We also see some Fiat 500X in there, believe it or not.
It's problematic to put a nice silhouette on a compact crossover, given the shortness and roof height, plus the brand identity that must be addressed. But the Q3 admirably succeeds, and the tidy shape will have legs, as Audi shapes do.
Even though the Q3 is only one year old, the 2016 model gets tweaks at the nose and tail, partly to keep pace with the updated A6 and upcoming 2017 Audi A4. The big grille makes it look like the front end is almost on the ground. It's nicely framed by lovely narrow headlamps, and balanced by big air intakes.
The sills are sculpted gently, as they climb toward the coupe-like roofline. At least Audi says it's coupe-like. The glass is relatively slim, while the wraparound tailgate and LED taillamps try to erase the box.
Interior
The reason this five-seater doesn't work for five grownups is largely headroom, reduced a bit in the back seats by the sunroof. Rear legroom isn't great either. Front passengers don't have these worries, and they should love the optional sport seats, well bolstered and comfortable.
Cargo space suffers less from the compact crossover limitations. There's 16.2 cubic feet behind the 60/40 rear seat, and with the seat folded that space gets tripled. That's room to carry a lot of stuff, more than 48 cubic feet.
Like the A3 sedan, the cabin is swathed in subdued black plastic and metallic trim that's integrated fairly well, rings and all. Fit and finish meet the Audi sedan standard. The gauges are big and clear, and the infotainment appears on a seven-inch screen that stands up impressively from the dash to display hi-rez and hi-contrast images from Google Earth.
The Audi MMI system is different in the Q3, in that it's not controlled by a roller on the center console, but rather a knob on the dash.
The cargo area offers luggage capacity of 16.2 cubic feet behind the rear seat; folding down the split rear seatbacks increases this capacity to 48.2 cubic feet, fine for a weekend's worth of luggage for two, or a mid-month run to the big-box store.