2016 Audi Q5 Driving Impressions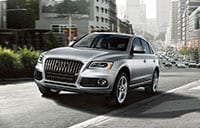 We like all of the Q5 engines, especially the base 2.0-liter turbo four-cylinder with 220 horsepower, which is pleasantly assertive. It's lighter and almost as quick as the supercharged 3.0-liter V6 with 272 horsepower. The turbocharger doesn't lag much, the power comes on smoothly, it accelerates from zero to 60 mph in 7.0 seconds, and can hit 130 mph.
The paddle-shifted 8-speed automatic transmission is quick, with closely spaced gears. Quattro means you won't have any trouble with wintry conditions. Also, with a ground clearance of 8 inches, the Q5 can handle deep snow as well as abrupt transitions.
The Q5 handles like a car, especially the lightest model, again the base 2.0-liter. It's a crossover that excels at passing, and comes out of corners like a lean and responsive wagon, like the allroad.
With the available Drive Select there are four driving modes of operation: Auto, Sport, Individual, or Comfort, which adjust the steering, transmission and throttle response, in concert with the also-optional adaptive suspension. We would pass on Drive Select mainly because there's nothing wrong with the stock setup. It rides and responds to the road very well, while the steering is predictable and steady.