2016 Audi Q5 Introduction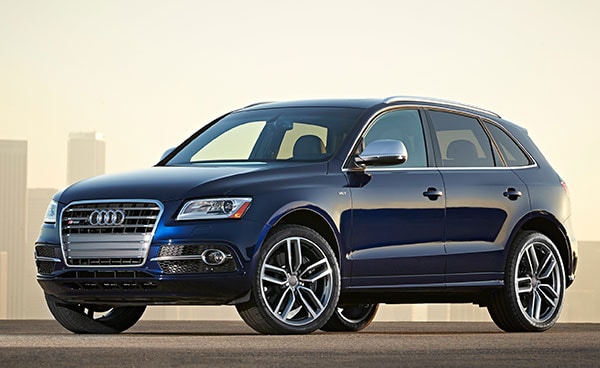 The Audi Q5 is compact luxury crossover related to the Audi allroad wagon, taller and blunter but still with pretty proportions, as well as a clean cabin. The Q5 crossover has carlike curves, akin to Audi sedans and coupes.
Under the skin the Q5 has multiple personalities, with five engines and five sets of driving dynamics. From sensible to enthusiastic in character, while offering grace and ease of movement on a well-sorted suspension and the quattro all-wheel-drive system and 8-speed automatic transmission.
The base engine is a 2.0-liter turbocharged four-cylinder making 220 horsepower with an energetic and torquey power delivery, even pulling the two-ton Q5.
Most buyers will likely go for the supercharged 3.0-liter V6 that makes 272 horsepower and accelerates from zero to 60 mph in 6.0 seconds and goes 130 mph (same top speed as the four-cylinder).
The green choice is the 27-mpg TDI and 26-mpg Hybrid. The TDI brings 240 horsepower and 428 pound-feet of torque. The Hybrid connects the base engine to a 54-hp electric motor fed by lithium-ion batteries, to get 245 net hp and 354 lb-ft of torque, and a zero to 60 mph acceleration time of 6.8 seconds.
We prefer the TDI for its more natural and earthy feel, with its diesel engine. We most enjoy the Audi SQ5 hotrod, with a 354-hp version of the 3.0-liter supercharged V6, and a beefed-up suspension.
The Q5 is unchanged mechanically for 2016, but there are a few additions to standard equipment, and new packages and options. All 2016 Audi Q5 models have a three-spoke multifunction steering wheel, a panoramic sunroof, and Bluetooth. One new option for 2016 is an adaptive suspension, while the option of turning your car into a WiFi hotspot with Audi Connect is available at more trim levels. Plus, the Bang & Olufsen sound system spreads.