2016 Audi TT Driving Impressions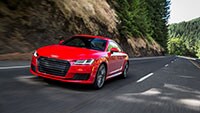 With its light and nimble driving character, the TT feels more sensory than before. On the highway, you can expect a more relaxed nature, though road feel and feedback to the driver could still be better. The magnetic suspension on TTS models filters out some road noise that can be an issue in the TT Coupe. Either way, the ride is controlled well.
The Audi TT feels quick and agile when in tight low-speed curves, helped by quattro. A new progressive steering system features variable ratio and electric assist, adding to the TT's nimble behavior during rapid directional changes.
As in the previous TT, a powered spoiler extends at 75 mph and retracts at 44 mph to increase downforce on the rear tires for improved grip in high-speed turns.
Naturally, performance rises in a TTS, which benefits from added turbo boost as well as stronger major moving parts. Audi's automated-manual transmission makes those gear-changes quicker, as well as satisfying.
Audi's TT is among the more fuel-efficient sporty coupes and roadsters, EPA-rated at 23/30 mpg City/Highway, or 26 mpg Combined. The TTS is rated 23/27 mpg City/Highway, or 25 mpg Combined.