2016 Audi TT Introduction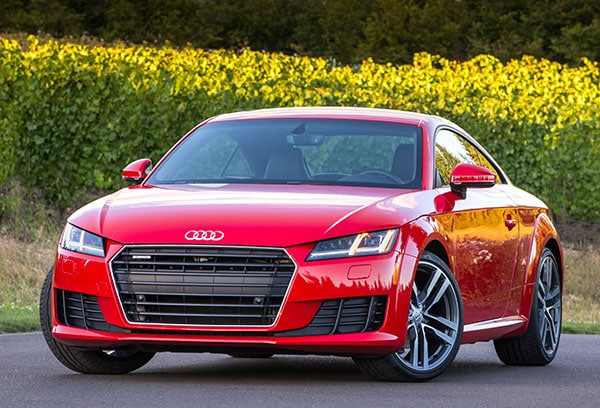 The 2016 Audi TT and TTS are new, third-generation models intended to draw them closer to the true sports-car realm. When Audi launched the first TT for 2000, it looked the part of an authentic sports car, but not everyone thought its performance and road-going talents matched the curvaceous body.
Lighter in weight and leaner in character, the 2016 Audi TTS and TT are swifter and more responsive than before. Unlike earlier TT coupes and roadsters, they deliver a more vivid driving experience, more in accord with the shapely exterior.
Rather than make evolutionary changes to the previous model, designers clearly took cues from Audi's R8 supercar. The body design has not changed dramatically.
The cabin has changed quite a bit, however. The new interior layout is unabashedly driver-centric, more closely resembling a cockpit. Occupants benefit from more comfort features and the latest in connectivity options. Best of all, the new technology does not detract from the TT's enhanced sports-car flavor.
Engines haven't changed much. The 2.0-liter turbocharged four-cylinder in the TT coupe and roadster makes 220 horsepower and 258 pound-feet of torque. The 2.0-liter turbo in the high-performance TTS coupe has been boosted to 292 horsepower and 280 pound-feet. Helped by an all-new structure and some serious weight loss, a TT coupe can reach 60 mph in as little as 5.3 seconds; the TTS, 4.6 seconds.
One change that purists might disdain is lack of a manual gearbox. Fortunately, the standard S-tronic 6-speed dual-clutch automatic transmission provides quick responses and satisfying gear-change behavior.
Every TT now has Audi's quattro all-wheel drive, for all-weather control. Audi Drive Select has Dynamic, Auto, and Comfort modes that can alter throttle response, steering assist, and transmission behavior, as well as stability and AWD system behaviors.
Ride comfort and noise could be better in a TT. Equipped with a magnetic suspension, the TTS, though tauter, is better able to suppress pavement harshness.
Additional active-safety features promise to meet the same standards for occupant protection as in Audi's sedans and crossover SUVs. Secondary collision brake assist, for instance, keeps the car from rolling after an accident. Audi Side Assist is included on the TTS. Active Lane Assist is available, now sending a gentle warning pulse to the steering wheel. A higher-intervention mode can help steer the TT when necessary, to keep it in the proper lane.