2016 BMW 2 Series Introduction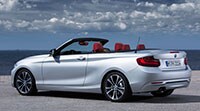 The BMW 2 Series was a hit out of the box because it was the perfect size. The beloved BMW 2002 that started it all more than half a century ago, had grown up to be the 3 Series, which is now too big and fat for the needs of many buyers, including roots BMW fans. The 2 Series is a two-door and modestly equipped, compared to other BMWs, and that's a good thing for this car that is more about the BMW light and lean driving experience.
Well, the standard audio system does have 10 speakers, so it's light and lean with a few indulgences.
The 2 Series was introduced two years ago. There are few changes for 2016. The previous Sport Line becomes standard equipment for 2016.
The 2 Series offers two engines, with manual or automatic transmission and available all-wheel drive.
The BMW 228i sedan uses a 2.0-liter turbocharged four-cylinder making 240 horsepower and 258 pound-feet of torque; there's also a convertible 228i, with automatic only. The rear-wheel-drive BMW 228i is EPA-rated at 28 miles per gallon Combined (36 mpg Highway).
The hot rod is the BMW M235i, with its 3.0-liter turbocharged inline six making 322 hp and 332 lb-ft. The EPA rates its fuel economy 22 mpg Combined, 26 mpg Highway.
The Insurance Institute for Highway Safety (IIHS) gives the 2 Series top scores in all of its crash tests, plus an Advanced rating for the available electronic safety system called Driver Assistance Plus.