2016 BMW 3 Series Driving Impressions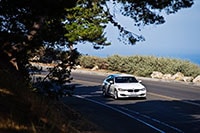 The sedan and wagon handle like a BMW should. The Gran Turismo is about comfort, while being more sure-footed than a tall crossover.
The 328i with its 2.0-liter turbo is our favorite; with the precise-shifting manual transmission it will reach 60 mph in 5.7 seconds. Its peak torque comes at a low 1250 rpm, and that sure gets you started fast. It is hard to tell it's a turbo because there's no lag.
The 328i works well with the standard 8-speed automatic with a Sport mode that quickens the shifts. We got track time in a BMW 328i, and might actually prefer the automatic on the track. The M-DCT dual-clutch gearbox and Active M Differential make a difference on the track.
The 340i is more potent, capable of accelerating from 0 to 60 mph in 4.5 seconds.
The electric power steering in every 3 Series car steers and countersteers with the right amount of feedback. Available sport steering sharpens the handling by mechanically changing the steering ratio, skipping the electronics that can make electric power steering difficult.
Driving Dynamics Control is standard, allowing the driver to choose a system: Eco Pro, Comfort (default), Sport, and Sport+ modes. Sport provides quicker steering and shifts, while Sport+ gives more traction and allows more slip from the stability control. It lets you get the tail out a bit.
And if you really want to get the tail out, there's the M Sport package that lowers the sedan by nearly half an inch, stiffens the springs and dampers, and adds big anti-roll bars with 18- or 19-inch alloy wheels. Still beyond that, there's a new Track Handling package with the Adaptive M Sport suspension, variable sport steering and brakes with blue calipers.