2016 BMW 3 Series Introduction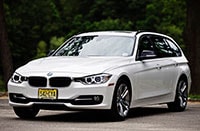 The BMW 3 Series has grown and softened in recent years, but all the cars in the series have dynamics expected from a BMW. The rear-wheel-drive versions are the best. They also get excellent fuel mileage.
There are a lot of 3 Series variants, with different powertrains and body styles, including wagon, sedan and hatchback Gran Turismo. There is also a coupe and a convertible, but they are labeled 4 Series.
The 2016 BMW 3 Series gets some updates. The taillights and headlights have been given distinctive light signatures, air intakes are wider, and fascias and bumpers at both ends have been slightly reshaped, while the nose has been raised a bit to meet safety standards for pedestrians. It's a bit more aggressive looking.
The BMW 320i sedan competes with the Mercedes-Benz CLA and the Audi A3 sedan.
The BMW 320i uses a 2.0-liter turbo four-cylinder engine that's tuned to make 180 horsepower and 200 pound-feet of torque. That same engine powers the BMW 328i, but it's tuned to make a spirited 240 horsepower and 255 pound-feet of torque in that car. If it's high mileage you want, the BMW 328d brings it, with a four-cylinder turbodiesel that makes 180 horsepower but more significantly a beefy 280 pound-feet of torque. At the top of the power heap there's the BMW 340i, using a new 3.0-liter turbocharged inline six-cylinder making 320 horsepower and 330 pound-feet of torque.
The all-wheel-drive BMW 328i xDrive Sports Wagon uses the 240-horsepower version of the 2.0-liter, while the 328d xDrive Sports Wagon uses the turbodiesel.
The 3 Series Gran Turismo is a five-door hatchback that's about eight inches longer and three inches taller, on a wheelbase that's four inches longer. All Gran Turismo models come with all-wheel drive. The BMW 328i Gran Turismo uses the 240-hp 2.0-liter, while the BMW 335i Gran Turismo uses the 3.0-liter inline-6 making 300 horsepower. The Gran Turismo is a relatively new invention, a BMW that's heavier and softer, and feels it. It trades away traditional BMW response for family values.
Rear-wheel drive comes standard on all sedans, with xDrive all-wheel drive available. The standard transmission is an 8-speed automatic, but a 6-speed manual, just for fun, is available at the same price for the 320i, 328i, 340i, and 340i xDrive.