2016 BMW 4 Series Driving Impressions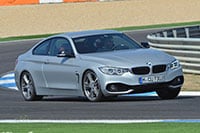 The 4 Series drives more like the 3 Series than we expected, given BMW's efforts at a distinctive design. Smooth and road-hugging, but not so aggressive as might be indicated by the stiffer and lighter suspension, using more aluminum parts, and the retuned steering.
The steering works well in the 428i with standard wheels and tires, but with the 19-inch wheels and fatter tires it's heavy enough to steal some feel of the road. We found road feel sorely lacking.
We got a bit of seat time in a 428i with the Variable Sports steering that changes the ratio of the steering rack, and it provides better weighting and more lively feedback.
Both engines offer consistent train-like torque from idle all the way up to 5000 rpm. The 2.0-liter four is quieter and smoother than the similar engine in the Cadillac ATS, and we find it a satisfying replacement for the legendary inline-6 that was normally aspirated.
The automatic transmissions do an excellent job of handling the torque delivery, and their paddle shifters and driving modes fine-tune the driving. But if you've ever hankered for a manual transmission, this 6-speed is one to get. It's inspiring, with its sharp and clean shifts and sweet clutch engagement.
The Driving Dynamics Control adjusts the shift, throttle and steering sharpness and quickness. In Normal mode it behaves in a rational manner, while in Sport or Sport+, the steering snaps the car into turns, the transmission pulls super-quick shifts, and the throttle zips. Meanwhile, the stability control gives room for fun but not too much for big error.
As for the extraordinarily athletic 425-horsepower M4, we got it on the track and got our extreme thrill. But on back roads over the patches and bumps, it lacked the feedback we hoped for. We got the feeling that the electronics were holding us back. We would say it's made for smooth, high-speed sweepers, more than two-lane twisties.