2016 BMW 4 Series Introduction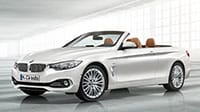 A superb ride and quiet comfort are hallmarks of the BMW 4 Series, available in coupe, convertible, and five-door Gran Coupe hatchback versions. Based on the 3 Series, the 4 Series is a bit longer, lower, leaner and bolder. It uses the same engines as the 3 Series, and offers rear-wheel drive or xDrive all-wheel drive.
The BMW 428i uses a 2.0-liter turbocharged four-cylinder making 240 horsepower and 255 pound-feet of torque, and accelerates from 0 to 60 in 5.7 seconds with either a 6-speed manual or automatic transmission, on grippy summer tires. It will go 155 mph, at which point an electronic limiter will whoa you.
The beloved 3.0-liter turbocharged inline six-cylinder comes in the BMW 435i. It makes 300 hp, 300 lb-ft, and zooms to 60 in 5.3 seconds with the manual transmission and 5.0 seconds with the automatic.
The hotrod M4 pumps out 425 hp and 406 lb-ft, with the 6-speed manual or 7-speed twin clutch, with an Active M limited-slip differential to keep the tires biting, along with available Adaptive M suspension. The M4 rides and handles like the bigger and more expensive M6, but it's lighter, and will blast to 60 in a brief 4.2 seconds with the twin clutch.
For a car this spectacular and sleek looking, the 428i's EPA fuel mileage of 27 miles per gallon Combined is off-the-chart sensational. The 435i with its powerful twin-turbocharged inline-6 still gets 25 mpg, which might be even more sensational. The high-performance M4 gets more like 21, which still is a lot, in a car with that kind of speed.
The Convertible uses a folding hardtop that goes up or down in 20 seconds at up to 11 mph. It has been improved to leave 7.8 cubic feet of space in the trunk when the top is down, out of 13 cubic feet when it's up. The Convertible also features a standard wind blocker, neck warmer, and extra sound insulation.