2016 BMW 4 Series Walk Around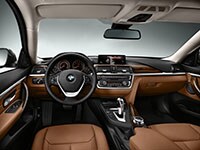 The 4 Series Coupe has a striking and lovely profile, with sharp shoulder creases and an athletic stance from the rear, as well as a beautiful balance of glass and metal. The front half of the car, forward of the windshield, is slathered with daring concave spaces that work well with the low roofline.
Interior
The driver's side of the cabin is separated from the passenger side by gentle arcs of plastic and wood across the center stack, with instruments slightly angled toward the driver. The iDrive rides high on the dash and dominates the instrument panel with its wide and bright screen.
The sports seats are grippy, and the rear seat folds down to extend the trunk for cargo, but there isn't much legroom for adults back there.
The fancy trim packages are classy but might go too far for some. Luxury models get glossy wood trim, while Modern coupes get satin trim, grey or black leather, and inlaid wood trim.