2016 BMW 5 Series Driving Impressions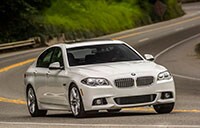 Like its competitors, the 5 Series uses high technology to improve virtually every aspect of its performance, but it does a better job of many luxury sports sedans of keeping the driver involved, without over-involving him or her. Steering, suspension, turbocharged engines, even the hybrid hardware, all are enhanced by technology. The ride in all models is firm, while being supple and quiet.
On the curviest and most demanding of roads, the driver feels connected to the car. The electric power steering, although relatively numb and devoid of feedback, is still weighted better than most of the cars in this class. BMW's Integral Active Steering slightly steers the rear wheels in the opposite direction at under 35 mph, to tighten parking; or it steers them in the same direction above 35 to enhance stability. It makes the 5 Series more nimble.
The 528i's turbocharged 2.0-liter four-cylinder engine conveniently reaches its torque at a mere 1250 rpm and responds brilliantly with the eight-speed automatic transmission. It responds quickly and motors along happily at low rpm for good gas mileage.
The 3.0-liter turbocharged six in the 535i picks up the pace, with 300 horsepower and 300 pound-feet of torque, and if that's not enough, the burly twin-turbocharged V8 in the 550i uses its 445 hp and 480 lb-f to rocket you from a standing start to 60 mph in 4.5 seconds, not much behind the M5 with its 560 horsepower. We found the M5 to be thrilling, if a bit detached and digital.
The 255-horsepower 535d diesel feels strong where you need it, both in the city and passing on the highway, thanks to its whopping 433 pound-feet of torque. The ActiveHybrid5, with a 300-hp turbocharged six-cylinder engine plus a 54-hp electric-motor system and 1.3-kWh lithium-ion battery pack, also offers strong performance; it accelerates nearly as quickly as the 535i.
Manual transmissions are very rare in this class, but the 5 Series provides them in the 528i, 535i and 550i, with rear-wheel drive.
Driving Dynamics Control offers you five modes: Eco Pro, Comfort, Normal, Sport, and Sport+, to adjust throttle response, transmission shift points, and steering assist. When you add the versatility of the available active suspension, you can tune yourself an attitude that works on the track.