2016 BMW 5 Series Walk Around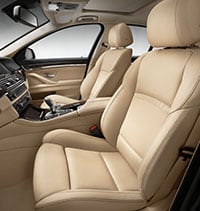 The 5 Series is lean and masculine, with the classic proportions of a sports sedan. It's got a fairly low beltline and fairly large greenhouse. the 2015 facelift brought new lines around the kidney grille and air intakes, as well as a dramatic taillamp design.
Interior
The 5 Series falls short of feeling like a cockpit, but it is driver-oriented, with simple, clean gauges and switches canted six degrees toward the driver. The dash is low, with pushed-out corners that make the cabin in front feel spacious. The center console is wide, behind the iDrive controller and touchpad. Most of the materials and trims are nicely understated.
The front seats are excellent, although space in the rear is lacking in the sedan, so if you need more you can choose the Gran Turismo hatchback.