2016 BMW 6 Series Introduction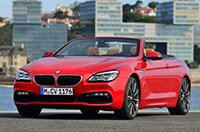 The BMW 6 Series might be seen as a luxury car, but it feels like a grand touring machine, in particular the four-door Gran Coupe model with its 4.5-inch extended wheelbase. But there's also an everyday two-door coupe, a convertible, and a high-performance M6 version. They all have evocative styling, athletic and elegant, with a long hood, muscular flanks, and a sensuous roofline.
The 2016 BMW 6 Series gets a facelift, touched up with one less vertical bar in the grille (now nine), along with tweaks to the lower air intake and foglamps. Adaptive LED headlamps have a new take on the classic double round design, with turn-signal indicators now moving along over the beams. In the cabin there's more LED ambient lighting, along with new wood and glossy black trim.
The BMW 640i coupe, convertible and Gran Coupe come with a 3.0-liter twin-turbocharged inline-6 making 315 horsepower. The BMW 650i versions use a 4.4-liter twin-turbocharged V8 making 445 horsepower. We love the classic inline-6, but found the V8 to be better suited to the 6 Series pace and attitude.
They all use a BMW-made 8-speed automatic transmission, with a 6-speed manual available for the BMW 650i with rear-wheel-drive. All-wheel drive (xDrive) is available for both BMW 640i and BMW 650i.
The powerful M6 uses its 560 horsepower to accelerate to 60 miles per hour in a brief 4.1 seconds. It takes two transmissions, the 6-speed manual or 7-speed twin clutch. Its road performance inspires awe, given all its electronic stability, traction and dynamic controls affecting steering, suspension and power. However on the track, it's limited by its size and weight, topping two tons. The smaller M5 sedan is faster.
Fuel mileage takes a hit because of the weight, 4200 pounds for the coupe and 4500 for the Gran Coupe. The BMW 640i with its smaller engine gets an EPA-rated 20/31/24 mpg City/Highway/Combined with rear-wheel drive, while the BMW 650i with its V8 gets 17/25/20 mpg. Both get about 1 mpg less with all-wheel drive.
The BMW 640i uses an exhaust system that enhances the beautiful sound the straight six engine makes. Use the Driving Experience Control switch (really, that's the name), to tune the volume of the engine note that comes into the cabin (treble and bass are not yet programmed). Twenty years ago, appreciating the scream of the M3, who would have guessed it could come to this.