2016 BMW M5 Driving Impressions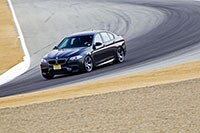 You might not have trouble getting people to go for a ride with you, when you boast you're packing 560 horsepower and 500 foot-pounds of torque (but then again, depends on who you ask).
From behind the wheel, the M5 won't be mistaken for a lightweight, despite its quick acceleration of zero to sixty in 4.1 seconds (4.3 with the 6-speed manual gearbox). You feel its 4500 pounds. We got some seat time on the track, and even though it's the same length, width, and weight as the M6, it feels bigger and heavier. Both cars are 193 inches long and 74.4 inches wide.
Some good news is that when it's time to slow down, the massive brake rotors, 16.1 inches front and 15.6 inches rear, are up to the task.
The 7-speed dual-clutch transmission is easier on the street and quicker on the track, but we like the 6-speed manual with automatic blipping during downshifts. It's our preference simply because we like to play, despite the fact that the throws are long. So we can't suggest that it's better, for any good reason.
The active rear differential electronically monitors traction and slide, something the regular 5 Series cars don't have. But you have to be really driving it hard, to exceed the limit of grip in this heavy car. But it's nice to know that it will save you from a sideways slide, if you do.