2016 BMW M5 Introduction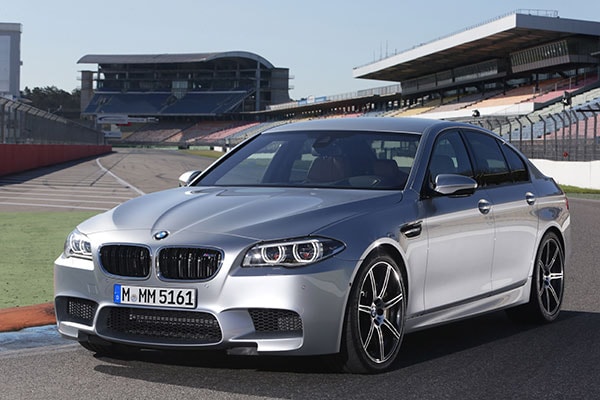 If you slice your butter with a chainsaw, you would have liked the hardcore original BMW M5 from the 1980s. The M5 used to be king of the sports sedan, but new contenders fight for the crown today, as the chainsaw has gotten civilized. It was last redesigned for 2012 and hasn't changed much since then. It's heavy and stuffed with technology. It would rather be on the street than the track.
The rear-wheel-drive M5 uses BMW's multi-tasking twin-turbocharged 4.4-liter V8 making 560 horsepower and 500 pound-feet of torque. The gearbox is either a 6-speed manual or 7-speed dual-clutch automatic. It zooms from zero to sixty 4.1 seconds.
The EPA gives the M5 a slim 14 miles per gallon City, 20 Highway, and 16 Combined with the 7-speed twin-clutch transmission, 1 more mpg with the manual. An all-wheel-drive M5 exists in Europe, so might find its way here.
The BMW 5 Series line gets five stars in crash-worthiness from the NHTSA, and a Good rating from IIHS in every test but small overlap frontal, where it gets Marginal. But one thing to always consider is how likely you are to get in a crash in the first place, with a car this responsive and with such solid electronic stability control.