2016 BMW M5 Walk Around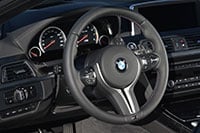 The M5 doesn't shout high performance. Sitting upright with big windows, it could almost pass for a regular 5 Series. It has a deeper chin and more aggressive front fascia, and at the rear there are four chrome pipes sticking out under the bumper, but it doesn't shout. What mostly gives it away are the 19-inch alloy wheels and fat ZR-rated tires, surrounding big blue calipers you can see between the spokes of the wheels. You can see more of the calipers through the spokes of available 20-inch wheels. The M5 comes in a few exclusive colors, such as Monte Carlo Blue or Sakhir Orange.
Interior
If you want to feel racy, the cabin of the M5 will disappoint you. It doesn't feel that much different from a 5 Series sedan. It's not laid out like a cockpit, instead there's a long low dash that stretches and bends at its edges to make it about space. There's not enough seat bolstering for spirited driving, unless you get the Executive package with active bolstering.
A wide center console hides much of the electronic controls. Some gauges and displays are slightly angled toward the driver. The iDrive dial on the center console controls almost everything, including BMW's online suite of remote apps. A big 10.2-inch high-rez screen shows many things, including 3-D map, real-time traffic; audio and media playback with 20 GB for music files.
The M5 doesn't have as much room in the rear as some competitors. Two adults are okay, even though there's space for a third passenger, save that middle rear seat for those you don't like.