2016 BMW X1 Driving Impressions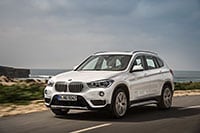 The BMW X1 is fun to drive, plain and simple. We got a good test drive on mountain roads, strewn with large and small rocks from recent rains. We had opportunities to test the quickness of the steering, stopping ability, traction, stability control, and ground clearance. At the end of the drive, we were still having fun.
The speed-sensitive steering is not only quick but communicative, the braking is solid and progressive, and the handling and balance will get you through corners like very few crossovers can.
The 8-speed automatic transmission seems to be programmed to lug rather than downshift up hills; but that's in Comfort mode. Switch to Sport and it wakes up.
The X1 comes standard with 18-inch run-flat all-season tires, but you can opt for conventional all-season tires with a space-saver spare. The ride is sometimes more firm with run-flat tires.