2016 BMW X5 Driving Impressions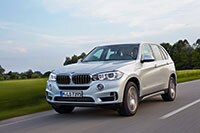 We got good seat time in British Columbia in the X5, at least in the xDrive35d diesel and xDrive50i with the powerful V8. Unfortunately we didn't get to drive the 40e plug-in hybrid, or the base 35i with the 3.0-liter inline six. But we know and love this engine, so it's safe to there is nothing to find fault with, zero zilch nada.
We drove from the city of Vancouver into the mountains to the Olympic ski village, and felt immediately comfortable with the rhythm of the 35d turbodiesel. Its low-range torque shoots it responsively into holes in city traffic, before it settles into a fairly silent jog on the highway, with little diesel noise in the transitions.
As for the 455-horsepower twin-turbo V8, it doesn't feel as fast as it is, even with all those humongous 480 foot-pounds of torque arriving at 2000 rpm. That's because the xDrive and suspension make acceleration so smooth, and the sound is muted and deadened to a whisper. This is where the seamless paddle-shifting 8-speed transmission (in all models) comes in. And the dynamic driving modes, starting with the conservative Eco Pro, then Comfort, Sport, and Sport+. The modes set the transmission shift points and snap, throttle response, and steering quickness and effort.
The electric power steering doesn't offer much feedback, and is vague on center in Eco Pro or Comfort. However the X5 corners like a BMW in Sport and Sport+, which give the steering wheel a meaty feel. With the optional Active Steering, the ratio varies depending on the speed and cornering forces. This is especially useful parking and around town.
Another option is Dynamic Damper Control with active shocks and rear air springs, programmed by the four driving modes, in M Adaptive control. This setup gives the X5 constant stability; however we must admit we've never driven an X5 without this option. There are also self-leveling rear air springs available. They make the X5 totally flat in cornering, without compromising the ride very much.
The xDrive all-wheel drive moves the power from rear to front. At the launch in Vancouver, we climbed some trails around the Olympic ski jumps, and slogged through mud. No worries. It's still not a Range Rover or Jeep Grand Cherokee, more on the level of a Ford Explorer or VW Touareg. But it will easily get you to your cabin in the woods, even in British Columbia.
Finally there's Dynamic Performance Control, which splits the torque between the rear wheels, to turn the X5 into corners and change lanes more crisply.