2016 BMW X5 Introduction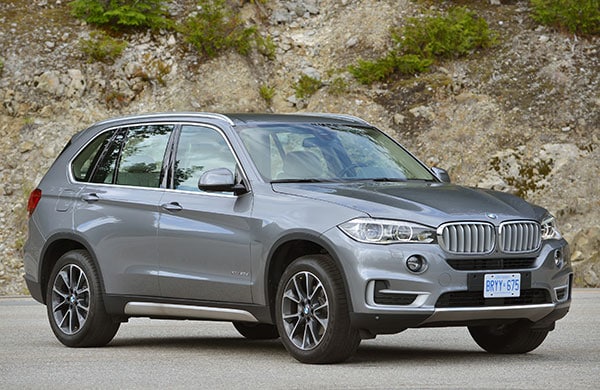 The BMW X5, built in South Carolina, is a benchmark in the midsize luxury SUV field. But it's more of a family wagon than an SUV, as its superb and sophisticated demeanor on the road, not its offroad capability, is what the X5 is all about.
All-wheel drive is available, not standard. So some might consider a Range Rover, for its unbeatable winter capability, or also a Jeep Grand Cherokee, which isn't a BMW but it will get you places the X5 can't. Other competitors might be the Mercedes-Benz GLE or Volkswagen Touareg.
The X5 offers broad versatility, with a variety of powertrains, trims, and packages. It seats five in warm ambiance, or seven with the optional third-row seat. Which is quite small, so the ambiance back there might not be so warm. Surprisingly, and disappointingly considering the $55k price of the base model, a rearview camera isn't standard.
Base engine is the 3.0-liter twin-turbo inline-6 that's the optional high-performance engine in the smaller X3. Its 300 horsepower zooms it to 60 miles per hour in 6.1 seconds, using torque that comes on at 1200 rpm. Not fast enough? Go for the X5 xDrive50i model, using a twin-turbo 4.4-liter V8 that hits 60 in 4.7 seconds, thanks to 445 horsepower and 480 pound-feet of torque.
Too excessive? Choose the X5 xDrive35d diesel and take 6.7 seconds. That's fast for a diesel, but no wonder, as it's a twin-turbocharged 3.0-liter inline six-cylinder diesel making 255 horsepower and 413 massive foot-pounds of torque.
Too dirty? Then you're right for the plug-in hybrid that does zero to 60 in 6.5 seconds. It uses a turbocharged 2.0-liter four-cylinder, electric motor, and lithium-ion battery pack to make a total of 308 hp and 332 lb-ft of torque. Its all-electric range is 13 miles.
The front-wheel-drive X5 35i gets an EPA-estimated 18/25/21 miles per gallon City/Highway/Combined.
The 2016 X5 hasn't been crash-tested by the government yet. There are a ton of optional safety systems, if you want an Active Driving Assistant, which is what the main package is called. There's also ACC Stop & Go (so you can drive without feet), Traffic Jam Assistant, and Parking Assistant. Night Vision, Surround View, and Blind Spot Detection.