2016 BMW X6 Introduction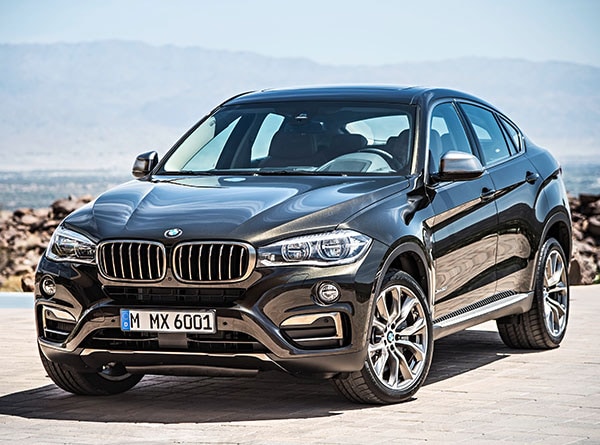 The BMW X6 Sports Activity Coupe is a luxury crossover SUV with sleek, coupe-like styling. As its looks suggest, the X6 offers a high seating position and increased ground clearance for better capability in deep snow or moderate terrain, while retaining some of the sporty handling and acceleration characteristics of a BMW.
Compared with the X5, the X6 only seats four and has less headroom for rear passengers. It offers less cargo space than the X5, itself not a standout in cargo capacity. The X6 most closely compares with the Mercedes-Benz MLC-Class and Range Rover Sport.
Newly redesigned, this second-generation BMW X6 was introduced for the 2015 model year and is based on the X5.
The 2016 BMW X6 lineup brings a few minor upgrades: For 2016, Bluetooth and enhanced USB come standard and have been upgraded. The 2016 BMW X6 xDrive50i has been upgraded with four-zone climate control, satellite radio and Harman Kardon surround sound.
The BMW X6 xDrive35i and X6 xDrive50i come with all-wheel drive. The BMW X6 sDrive35i uses rear-wheel drive. The sDrive35i and xDrive 35i are powered by a 300-horsepower 3.0-liter turbocharged inline-6. The xDrive50i has a 445-hp 4.4-liter twin-turbocharged V8. All get an 8-speed automatic transmission with paddle shifters.
The BMW X6 M boasts a specially tuned 4.4-liter twin-scroll, twin-turbo V8 rated at 567 horsepower and 553 foot-pounds of torque and can accelerate from 0-60 mph in just 4.0 seconds, according to BMW. It comes with all-wheel drive.
Fuel economy for the X6 sDrive35i is an EPA-rated 19/23 mpg City Highway. The X6 xDrive35i is rated at 18/27 mpg. The X6 xDrive50i gets 15/22 mpg, the X6 M 14/19 mpg.