2016 BMW Z4 Driving Impressions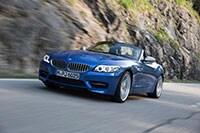 The 240-horsepower engine makes 260 foot-pounds of torque; the 300 hp engine makes 300 pound-feet; and the 335 hp engine makes 332. The base engine can reach 60 mph in 5.5 seconds, which might be the most efficient performance. The 3.0-liter six-cylinder in mild tune can get there in 5.1 seconds, and that difference in acceleration is quite noticeable in every gear. The jump to 4.8 seconds with the 335-horsepower version was less evident to the seat of our pants.
The suspension is designed and tuned to be smooth, so the ride is comfortable. It's a bit soft for the track, although the cornering is stable and fairly well balanced.
If you want sportier handling, there is the M Sport Package (standard on the sDrive35is). It makes the cornering confident, quick, and direct, as the adaptive dampers do much of the work for you. This package includes 18-inch alloy wheels with grippy run-flat tires, which make the ride less comfortable. But it's all a tradeoff, you just have to decide what you want most.
In the sDrive28is, the standard 6-speed manual gearbox is slick and easy, great for those who like to shift. The available 8-speed automatic is quick and smooth, although it steals some spirit from the car.
The sDrive35i and 35is come with a paddle-shifting 7-speed dual-clutch transmission that is the best of both worlds. It's quick, but can't match the racy crispness of the Porsche Boxster's dual clutch.