2016 BMW Z4 Walk Around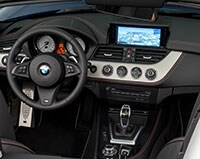 With its long, long hood and short tail, the Z4's shape might be called classic. Converging arcs, smooth swells, and raised character lines blend to make it a striking design.
Interior
Fortunately, the cabin departs from the design of BMW sedans, although it's not exactly spartan and precise, like classic sports cars once were.
The cabin is sophisticated and upscale, with high quality trim, although the supportive sporty seats are synthetic leather, not the real stuff. The centerstack is somewhat cluttered, but the iDrive control is clean enough.
As with any two-seat roadster, there's not exactly room to spare inside.
The retractable hardtop tucks away neatly, and is so well insulated that the Z4 is nearly as quiet as a coupe inside.