2016 BMW i3 Introduction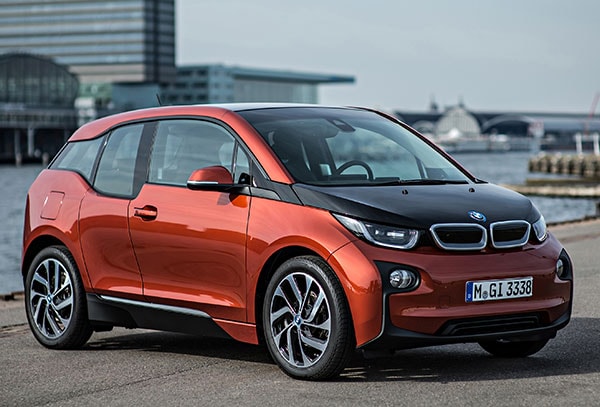 For three years now, the BMW i3, a five-door hatchback, has been the most energy-efficient car sold in the U.S. Its technology is a couple jumps ahead, with a totally electric powertrain and unique carbon-fiber reinforced plastic shell.
An optional setup adds a two-cylinder motorcycle-based engine with a two-gallon fuel tank, which about doubles its approximate 75 miles of range. But the weight of this add-on makes acceleration performance slower and cuts a few miles out of the all-electric range. It's called REx, for Range Extender.
The funky i3 sells well, as many as 1000 cars per month. But if it weren't for the twin-kidney badge on the nose, you'd never know it was a BMW. It's designed to be a city car. Think New York, San Francisco, Boston, as well as Amsterdam, Jakarta, and even Tokyo, in the midst of all the domestic Japanese competition.
In that urban role, the BMW i3 is genius. It made our drive in chaotic rush-hour traffic free of stress; in fact, the i3 was downright soothing. And out on the open road it's fine, just don't expect it to handle and ride like a BMW sedan.
That claim of most energy-efficient comes from the BMW i3's EPA rating of 124 MPGe, or Miles Per Gallon Equivalent, measuring the distance a car can travel on the same amount of energy that's in a gallon of gasoline.
The electric motor pushes the BMW i3 up to speed swiftly and smoothly. The electric motor generates 125 kilowatts (equivalent to 170 horsepower, 184 pound-feet of torque), with a liquid-cooled 22-kilowatt-hour lithium-ion battery mounted in the cargo floor.
The optional booster engine is a 650cc twin making 34 horsepower (25 kilowatts) and 40 pound-feet of torque, driving a generator that charges the battery. The optional package is mounted in the cargo floor next to the battery.
The regenerative braking the BMW i3 generates is exceptional, so strong you don't even have to use the brake pedal to slow down, only to come to a complete stop. Back off the accelerator pedal, and the electric motor resists forward motion by the car, while charging up the battery. We found it easy to get used to. Drivers might like it, and some find it a fun driving game to play.
BMW's home charging station is rated at 7.4 kilowatts, more than any other plug-in car save the Tesla Model S. It can charge the battery from flat to 80 percent in less than 4 hours. An optional Combined Charging System (CCS) uses a quick-charge port, but good luck finding a public charging station that uses that system. There are only a few.
The i3 offers most of the electronic safety features found in luxury cars. Due to its low sales volume, the BMW i3 has not been crash-tested by the government.