2016 BMW i3 Walk Around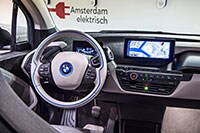 The BMW i3 looks more muscular than other hatchbacks the same size. It has presence, with a wide stance, 19-inch wheels, and upright posture. The mock grille on the snub nose is blacked out and ringed in Frozen Blue, as BMW calls the color, with Frozen Blue trim on the doors that big chunky handles.
Every i3 has a glossy black hood, roof, and rear deck that's not attractive, a jumble of lines and curves and mix of materials. The darkened glass of the rear hatch hides U-shaped taillamps. The body is wider than liftgate, making the i3 look like it has tailfins.
It looks better from the other three angles: side, front, and front corner. There's a deep dip on the side, making the rear windows look taller. The line turns upward to a smaller window in the rear pillar, meeting a dip from the roofline. Meanwhile the narrow tires that come on 19-inch wheels make the i3 look like it wants to be a lowrider when it grows up.
Interior
The cabin is modern, calm, minimalist, and expansive in front. It feels like a loft, with as much space inside as a 3 Series sedan, according to BMW. And like a loft, it's cramped in the back, but the front seats are excellent.
Inside, the BMW i3 feels like Scandinavian furnishing, simple and sometimes elegant, with tight textures light or dark, including gray, cream, or earth-tones, with contrasting stitching. Parts of the dash and the interior panels are made of a renewable fiber called kenaf, which is mottled and looks unfinished. There are the inevitable black plastic bits, but they don't stick out.
The i3 Mega World comes with recycled SensaTec upholstery, and the instrument panel is from what BMW calls grain foil. In the Giga World, both upholstery and instrument panel come in active-climate wool and olive-leaf-tanned leather, in earth-tones, trimmed by open-pore eucalyptus. If Tera is to the 12th power of things, it doesn't make it. Tera World is almost the same as Giga World but dark brown.
There's a small information screen behind the steering wheel. The main display screen is 10.2 inches, rising over a useful bin on the dashboard and showing bright and crisp graphics. Its functions are operated by the iDrive knob on the console. In addition to road conditions, you can get other transportation information, for example bus and train schedules, as well as walking routes. Directions on how not to use your $50,000 car.
There isn't too much wind noise at speed, which is the loudest noise you get in an electric car. The motor whines a bit under full acceleration, but the sound is otherwise suppressed.