2016 BMW i8 Walk Around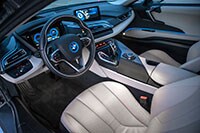 The i8 starts out as a low wedgy fastback with a short nose, but then you open the doors and it turns into a raptor. The wing doors swing up and stand suspended, as if the i8 is poised to swoop from the sky and snatch a rat for lunch.
The lines are horizontal, and the wrap is tight around aero-driven 20-inch wheels. From the rear wheelwells back, a slab rises to a tall aerodynamic tail. The i8's coefficient of drag is 0.26, not quite as low as that of the Tesla Model S. Aero is critical with an electric car, because above 30 mph, it takes more energy to overcome drag than it does to roll the car.
The nose features a blacked-out BMW twin-kidney grille, with eye-catching, sharply contrasting, good-looking bright blue (Frozen Blue) trim. The door sills and other bits are gloss black, a feature lost on a black i8, thus changing the lines. The waistline is an actual groove that runs all the way to the rear fenders. Small fins run from the roof rail to the far edge of the deck lid, which curls over them like a tube wave over a surfer. It's the i8's signature.
Interior
Surprisingly, the i8 sports car's interior is more predictable and less avant-garde than that of the i3 hatchback. Inside, the i8 is more like a traditional BMW. The leather seats in our i8 mixed black and ivory, while matte-silver trim highlighted the character lines of the dash. Soft-touch plastics on the dashboard and other places provide a premium feel. But it's not all plastic. There's also reclaimed wood veneer and recycled fiber fabric.
The front seats are low, with a floating instrument pod in front of the driver, and a tall tunnel for the battery pack between the front seats. The seats feel comfortable enough, but we didn't get to take a road trip in the i8, and that's the test, especially in a car like this.
Those cool blue lines on the outside extend to the inside, and come out in blue LED ambient lighting that looks especially good with the optional bright blue seat belts.