2016 Buick Cascada Introduction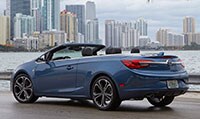 All-new for 2016, Buick Cascada is a soft-top convertible with clean looks and European manners. It's considered a 2+2, but its back seats are roomier than those of most convertibles and sufficiently comfortable for four adults out for dinner.
Cascada is the first convertible Buick has sold in America in 25 years. Intended as an entry-level luxury convertible, the Buick Cascada is most closely comparable to the Audi A3 Cabriolet and Volkswagen Eos. Also on the list of potential competitors are sportier four-seat convertibles like the Ford Mustang and BMW 2 Series.
While the Cascada is a different kind of Buick, it's still very much a car for grown-ups. You get legitimate room for four passengers, a usable trunk, and all the interior comforts that appeal to adults. The result is a car that's capable of attracting buyers who've never considered a Buick before as well as those driving one now.
Convertibles aren't known for their practicality, but the Cascada comes with very few concessions. You don't need to live where it's always warm and sunny to justify buying one. It's a perfectly enjoyable companion even when you're just commuting in the rain.
A turbocharged 1.6-liter four-cylinder engine powers the Buick Cascada rated at 200 horsepower and an impressive 207 foot-pounds of torque. A 6-speed automatic transmission delivers power to the front wheels. Fuel economy is an EPA-estimated 20/27 mpg City/Highway.
The suspension and body structure were designed to deliver a precise, refined driving experience with responsive steering and driver feedback, and it appears Buick put considerable effort into this.
Model Lineup
Buick Cascada ($33,065) is outfitted with leather upholstery, navigation, heated front seats, heated steering wheel, satellite radio, 20-inch wheels, rearview camera, rear parking sensors.
Cascada Premium ($36,065) adds forward collision alert, lane departure warning, automatic wipers, front and rear window reflectors, and other features.
Exterior
The Cascada is the product of GM's design studios in Europe, so it looks only vaguely related to other Buick models. The overall shape is purposeful and trim, with just enough tailoring to hold your interest. A subtle hood bulge and LED running lights add a dose of bravado to the front. The chrome window sill trim extends around the entire passenger compartment for a finished look when the top is down. We like the look of the big 20-inch wheels, which stop just short of overkill.
Interior
The Cascada looks and feel more like a proper Buick on the inside. You'll find nicely textured surfaces, bright accents, and classy piano-black trim. The atmosphere would be truly elegant if not for the sea of buttons covering the center dash and console.
Front passengers are treated to plenty of legroom and supportive seats that keep you comfortable through hours of travel. Power-operated arms bring the seatbelts forward so you don't have to grope behind you. Flip a switch and the top goes down in just 17 seconds. Another switch lowers all windows at once. In case of a sudden downpour, the top operates at speeds up to 31 mph.
The backseat is large enough to accommodate two adults on short trips, which is more than can be said of some convertibles that claim to hold four passengers. A sensor prevents the front seats from being backed into rear passengers' knees, a thoughtful feature we haven't seen before.
The trunk offers 13.4 cubic feet of space with the top up, about the same as a compact sedan. In drop-top mode, you're looking at 9.8 cubic feet, which isn't anyone's idea of spacious, but at least the rear seat folds down to make a nice storage shelf.
Driving Impressions
Technically a compact, the Cascada feels substantial because it is. At 3,979 pounds, it weighs more than Buick's largest sedan. How can that be? The blame (and credit) goes to the extensive structural bracing that gives the Cascada the solid feel of a steel-topped coupe. It's free of the shakes and jitters than sometimes plague convertibles, but it's also a heavyweight. That makes the Cascada a pleasant tourer, not a track star.
Like other Buicks, the Cascada excels at smooth, quiet running. The thickly insulated top does an impressive job of filtering out noise and cold, and you can still hold a normal conversation when it's down. Handling is typical of a modern luxury car, confident and responsive, but subordinate to ride comfort. In keeping with the Cascada's relaxed personality, power delivery is exceptionally smooth for a turbocharged engine. The sprint from zero to 60 mph takes about 8 seconds, which we consider average performance, somewhere between quick and slow.
The Cascada is EPA rated at 20/27 mpg City/Highway, or 23 mpg Combined. In the world of luxury convertibles, you could do better or worse depending on your priorities. As with other aspects of its performance, the Cascada aims to please the typical buyer in this class and succeeds in that regard.
We should note that visibility, always a concern with soft-top convertibles, isn't an issue with the Cascada. Negotiating traffic with the top up is no more challenging than in a fixed-roof luxury coupe.
Summary
The Buick Cascada is an upscale convertible packed with comforts that cruises like a big sedan and is easy to drive and enjoy. We appreciate the careful engineering that went into making it a well-rounded, thoroughly contemporary American convertible.