2016 Buick Enclave Driving Impressions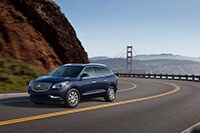 Accelerating smoothly with its capable combination of 288-horsepower engine and 6-speed automatic, Enclave rides smoothly. In fact, it's better-riding than a number of three-row crossover rivals.
Handling is fairly responsive, too: better than might be expected. Enclave is actually more nimble than some luxury vehicles. Despite its size, weight and height, an Enclave does not lean too much in curves and it steers relatively well. However, you never forget that the Enclave is a heavy vehicle. Brakes inspire confidence, with a firm pedal feel, yet hard braking produces more nosedive than any vehicle we've tested lately.
With 20-inch tires mounted, the ride gets a bit harsher. Even then, it's more refined, and softer, than you'd get in various other three-row crossover SUVs. An Enclave can tow as much as 4,500 pounds, when properly equipped.
Fuel economy ranks as poor if set against a sedan; but it's relatively good when compared with a full-size SUV. With front-wheel drive, the EPA estimates 17/24/19 miles per gallon City/Highway/Combined. Fuel-economy figures dip to 16/22/18 mpg City/Highway/Combined with all-wheel drive. Some newer entrants into this crossover class score much higher. The 2016 Acura MDX, for instance, is rated at 20/27 mpg City/Highway.