2016 Buick Enclave Summary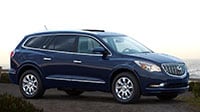 The Buick Enclave qualifies as an excellent value considering its size, build quality, passenger/cargo space, and level of standard equipment in each trim level. Fuel economy could be better, and this big SUV's heavy feel on the road could dissuade some shoppers. Overall, Buick's crossover SUV is worth a test-drive.
Driving impressions by Marty Padgett, The Car Connection. James M. Flammang contributed to this report.