2016 Buick Enclave Walk Around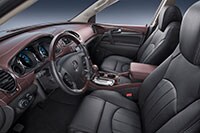 In our opinion, Buick's version is the most visually attractive of the trio of large crossover SUVs from General Motors. Handsome, sweeping body lines give it a sleek and shapely profile. Compared to the essentially shapeless Chevrolet Traverse, as well as the angular GMC Acadia, Enclave has aged rather well.
Up front is a chromed waterfall grille. Above the rear wheels, you can even discern a bit of the shape of an old-time Coca-Cola bottle (once considered an informal test of modern design).
Interior
In addition to a comfortable road experience and classy amenities, the Enclave provides abundant cargo capacity and flexible, inviting passenger space. Inside, it feels like a premium vehicle, helped by use of high-quality materials as well as appealing design that's both classy and conservative.
Hints of an Art Deco theme can be seen in the dashboard, which looks upscale and includes an analog clock. Restrained use of wood trim enhances its appeal. Soft-touch materials are accented with stitching.
Getting in and out of the front seats is easy. Those seats are soft and accommodating for passengers of any size. Second-row seats are elevated, to provide a good view and comfortable leg support, with plenty of headroom. Entering and exiting the third row isn't as easy as it would be in a minivan, though a tilt mechanism for the second row eases the process a bit. Occupying that third row isn't exactly a pleasure.