2016 Buick Encore Driving Impressions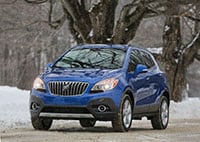 Considering that an Encore weighs close to 3,200 pounds, sluggish performance isn't exactly a surprise. That's a lot of bulk to propel with 138 horsepower. Acceleration to 60 mph takes a leisurely nine seconds or more (10 seconds with all-wheel drive). With a couple of passengers seated, the AWD edition really does feel lackadaisical, making advanced planning essential when you expect to merge.
Performance also is hindered by an automatic transmission that tends to upshift prematurely. During even modest acceleration, the transmission typically downshifts twice. Acceleration should quicken significantly with the new Sport Touring, whose 153-hp engine develops 177 pound-feet of torque.
Handling is good for a tall, heavy wagon on a short (100.6-inch) wheelbase, with what amounts to an econocar-type suspension. Good electric power steering provides a satisfying blend of on-center operation and simulated driver feedback.
Under nearly all road conditions, an Encore rides quite well. However, some light choppiness may appear when rolling over expansion joints or potholes. All-wheel-drive models seem more smooth-riding. Well-cushioned seats help keep passengers contented.