2016 Buick Encore Walk Around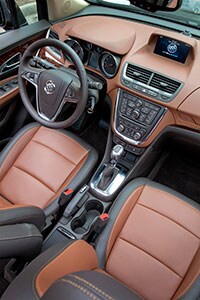 If Encore designers are guilty of anything, it might be trying too hard to achieve distinctive body sculpting. For a small car, there's just too much going on with the body, though it does convey a certain presence when viewed from specific angles.
Generally speaking, the front half of this little crossover SUV flaunts a rakish stance. Further back, an Encore looks more like a traditional small, five-door hatchback. A spoiler atop the tailgate extends the roofline, helping Encore to appear slightly longer than its 168.4-inch dimension suggests. Chrome-surrounded simulated portholes atop the hood do nothing to improve appearance, serving mainly as reminder of Buick's storied past.
Interior
Design details are more subdued inside the Encore, though interior trim possibilities stretch from all-black to multi-colored. The cabin conveys a premium feel. A tall roof and low dashboard combine to create a sense of space.
Headroom is good, but an Encore isn't so accommodating otherwise. Relatively narrow dimensions result in somewhat constricted shoulder space. Still, an Encore easily conveys four average-size adults. Back-seat knee space is adequate, helped slightly by indentations in front seatbacks.
Not only does the driver get a good seating position, it's accompanied by a commanding view past the short hood. Although the cabin is comparatively quiet, some wind and tire noise can be heard. Buick's Active Noise Cancellation curtails most engine roar.
Passenger comfort is enhanced by nicely-shaped front seatbacks and cushions, though a little more support would be welcome. The back seat folds, to hold 48.4 cubic feet of cargo.
On the down side, the dashboard suffers from overabundant colors. The center stack is packed with switches and buttons. Many controls are nearly identical, identified by small symbols, thus distraction-prone. Conventional rotary knobs control audio volume and other adjustments.
Better make sure that rearview camera is ready, because side views and rear-quarter visibility are awful, due to thick pillars and a small back window.