2016 Buick LaCrosse Driving Impressions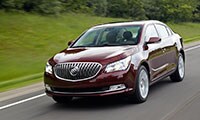 When equipped with the 304-horsepower, 3.6-liter V6, LaCrosse performs with strength and smoothness, even reminding some drivers of highway cruisers of the distant past. Clearly, the V6 is the best choice when carrying a full load of people and luggage on a long trip. You can expect abundant reserve power, but so-so fuel economy.
Buick's eAssist engine, on the other hand, isn't the smoothest-running; but it's the obvious choice for best gas mileage. The mild hybrid's 15-hp electric motor helps smooth out the 6-speed automatic transmission, and also restarts the engine after it's been shut off at a stoplight.
The eAssist is EPA-rated 26/36 mpg City/Highway, or 24 mpg Combined. With front-drive, the V6 is EPA-rated 18/28 mpg City/Highway, or 21 mpg Combined.
The LaCrosse handles curves well and rides smoothly. Quiet Tuning enhances the premium ride quality, though the V6 engine can sound somewhat harsh while acceleration.
Front-wheel-drive V6 models with 19- or 20-inch tires may be equipped with real-time damping, including Sport Mode selectivity, which alters suspension response according to road conditions ahead.
Forward visibility is fine, but thick rear pillars and a modest-size back window translate to troubling blind spots.