2016 Buick Regal Introduction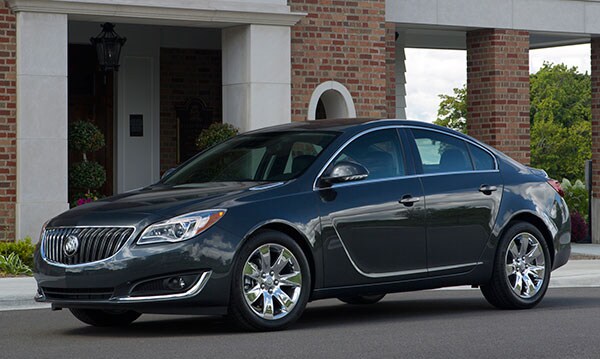 The Buick Regal is a midsize four-door that qualifies as an American-made sports sedan, especially in GS trim. The Regal offers graceful styling and confident roadholding. Turbocharged models deliver invigorating performance.
The Buick Regal has been known by several generations for its shapely design, and the Gran Sport models have a lengthy history as the pinnacle of the Regal crop. Today's Regal is related to the European-made Opel Insignia. Opels are not muscle cars but they are noted for crisp, German-style handling and performance.
2016 Buick Regal models have been updated with a new touch-screen, more intuitive controls and IntelliLink enhancements. A new Regal Sport Touring model joins the 2016 lineup. Regal was last redesigned for 2010 and facelifted for 2014.
Front-seat occupants can expect ample room, but back-seat passengers had better be small in stature, because space is tight. Premium-level finishes and features mix with an advanced infotainment system and high-tech safety equipment to produce a classy experience.
Two engine choices are offered. For frugality, the base model comes with a 182-horsepower 2.4-liter four-cylinder.
All other models come with a 2.0-liter four-cylinder making 259 horsepower and 295 pound-feet of torque. A 6-speed automatic transmission comes standard.
Regal GS is the only one with a manual-shift option and a three-mode Interactive Drive Control system.
Turbocharging, especially in the GS sedan, provides the visceral thrust that enthusiastic drivers savor. Yet, in some respects, Buick's Regal is similar to less-costly family sedans.
Available all-wheel drive improves traction in harsh weather, but also helps the Regal come out of corners most effectively when driven hard.
A rearview camera is standard, and a selection of the latest safety technology, such as collision warning, can be obtained.
Crash-test results have been good, but not class-leading. The Insurance Institute for Highway Safety gave Regal a Good rating. With available front collision warning and automatic braking, the frontal score rose to Superior. The National Highway Traffic Safety Administration gave Regal a five-star overall rating.